We're prepping for the quintuple this fall!
On Sunday July 23 we completed some test jumps! Service King on Collins Park Drive in Antioch was kind enough to work with us and allow us to strut our stuff on the street in front of their business location.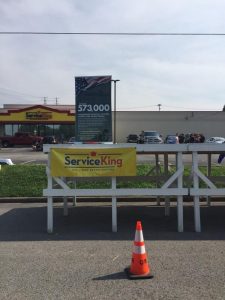 Yes, we can still do it!
Our jumps were above expectation; three of our four jumps were within 2 1/2 feet of our ramp target, while the fourth was within five feet. (At least we landed on the ramp!!) 🙂 As a result, we know we can proceed with our bigger plans.
We're excited to be getting more seat time again—it's the first time we've been on the bike in five years! But now we're here to finish our goals of landing the quintuple and the 305′!
Our jumps were 66′ (2), 78′, and 91′.
Check out a couple of camera vids:
Just remember this:
We ain't dead yet!!